Featured Products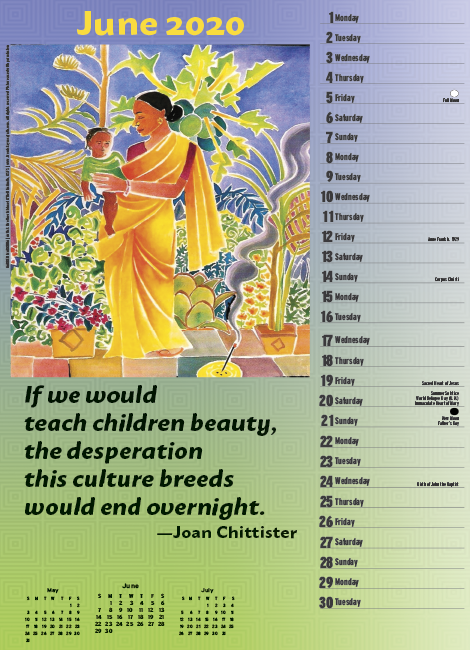 Mary of Nazareth made feminism an article of the faith, and power holy. Mary shows us the sanctifying power of a human being who has become fully human," writes Joan Chittister in the introduction to her 2020 Calendar that features contemporary and culturally-varied Marian paintings by award-winning artist Brother Mickey McGrath.

Inspiring words by Sister Joan, beautiful works of art by Brother Mickey, and a stunning new format make this wall calendar a treasured personal keepsake as well as a meaningful holiday gift.
$10.00, 3/$27.00, 7/$56.00, 11/$77.00, 25/$150.00
BOOK DISCUSSION on this book begins October 21 at Monasteries of the Heart.
REGISTER HERE
NAMED BOOK OF THE MONTH by Australia's Garratt Publishing Company
Regular price: $18.95
Sale price: $14.20
Watch Oprah Winfrey's interview of Sister Joan on this book at OWN TV.
Sister Joan on her new book,
The Time Is Now
VIEW ADDITIONAL VIDEOS
from Sister Joan about
The Time Is Now.
Regular price: $20.00
Sale price: $15.00
Regular price: $14.95
Sale price: $11.20
New packet with DVD
$25.00