Cry Out: Lent 2018
Product Description
by Joan Chittister, OSBSorry! Sold out!
Find your voice this Lent with Joan Chittister's 2018 Lenten devotional,
Cry Out
. This portable pamphlet contains Sister Joan's reflections on this season's Sunday Gospels, mantras written by saints and mystics, and prompts that will lead you beyond yourself. Arrive at Easter with a greater boldness— the courage and surety that come from knowing that, as Sister Joan writes, "we are born with God pulsing through our veins."
"The spiritual life is meant to be an adventure between the soul and God," writes Joan Chittister in the introduction to
Cry Out
. "It is not an act of religion played out in front of the world. It is, instead, the deepest relationship in life, the one on which the very meaning of life depends. Lent calls us to attend to this soul-stretching relationship."
Cry Out
includes seven weekly reflections—one for each week of Lent and for Easter—from Joan Chittister. Each reflection begins with a Scripture quote and ends with the opportunity for you to make a personal response that can lead you deeper into your soul's adventure with God. There is also a mantra for each week from wisdom figures who have enlightened us through the ages.
Consider
Cry Out
• for your own personal use
• to share with family and friends
• to use in prayer groups
• to distribute to those longing for a voice to cry out
• and because our world is in great need of your voice
$3.00 each includes U.S. shipping and handling
$2.50 each for 10 or more shipped to same U.S. address.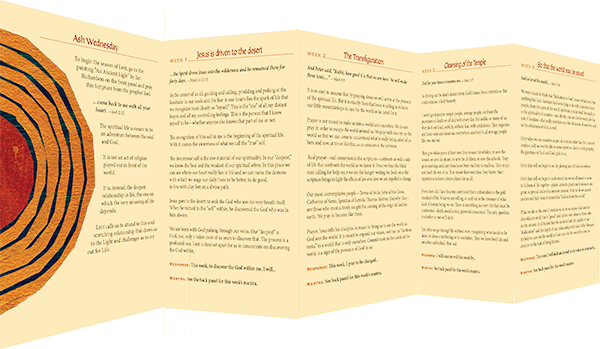 10 panels, folds to 5" x 7"
full color, Benetvision