Mercy Misericordia: Lent 2016
Product Description
by Joan ChittisterFree U.S. shipping and handling on this item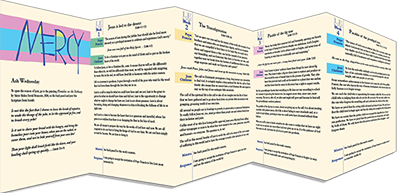 You are invited to participate in a pilgrimage this Lent. Rather than a physical walk to a sacred place, you can join a more arduous but more rewarding pilgrimage—a journey into the heart of mercy.
In keeping with the Year of Mercy announced by Pope Francis, Joan Chittister reflects on each Sunday of Lent in her Joan Chittister: Lent 2016. In addition to Sister Joan's words, this small but weighty 10-paneled pamphlet includes a weekly quote by Pope Francis, an art lectio reflection, an invitation to action, and a mantra.
EXCERPT:4TH SUNDAY OF LENT
To love the unlovable recklessly,
as does the Prodigal Parent
in the face of two unlovable children,
is to travel through life with new insight,
with new people, in new ways.
From somewhere subterranean in the human soul
comes the call of the godlike Parent,
the one who knows the way of human development,
who knows that to be fully human is to forgive wrongs.
We are each the child who is squandering
the treasure called life.
We are each the child who is judging those
who do not live life as we do.
We are each called to be the one
who forgives the stumbling self
and celebrates the efforts of the other.
$3.00 each
10 or more $2.50 each
Benetvision: Full color 10-panel print publication.
Closed pamphlet measures 5" x 7".