Product Description
SOLD OUT
AVAILABLE AS A PDF DOWNLOAD
CLICK HERE
by Joan Chittister
If you've ever gone through a dark time, you know how important it is to have someone by your side. "Lent is a road that cries for a companion to light the way, to hold us up, to prod us on," writes Joan Chittister. And in the 2019 Lenten publication, she calls on Mary of Nazareth to be that friend who accompanies us since she herself walked the dark road with Jesus and stayed with Him to the end.
In her reflections on each of the Sunday Scriptures, Sister Joan calls on a different facet of Mary, the strong woman who is our beacon on the journey. This Lent let Mary, Seat of Wisdom, Our Lady of Light, Mirror of Justice, Cause of Our Joy, Undoer of Knots, Our Lady of Sorrows and Mary, Morning Star be a loving companion.
In this video, staff member Jacqueline Small tells you why a Lenten journey with Mary matters to her.
Price INCLUDES shipping and handling (US/Canada only)
Quantity pricing: 10 or more, $3.00 each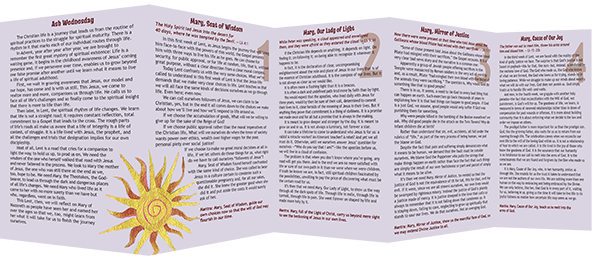 Benetvision
Folded, measures 5"x7"
10 panels